Main Content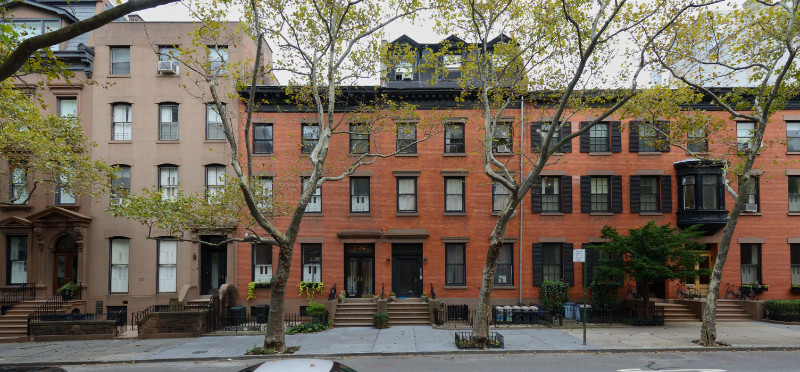 Brooklyn Heights
Tree-lined sidewalks, cobblestone side streets, and a thriving mix of commercial and community-focused businesses make it clear why Brooklyn Heights is known as "America's original suburb." From ivy-wrapped row houses to jaw-dropping single-family mansion.
Table Of Contents
Commute Times
Atlantic Terminal
19m by train
8m by car
Grand Central
32m by train
34m by car
Union Square
29m by train
24m by car
Wall Street
19m by train
13m by car
Boundaries
East to West
Cadman Plaza West to the East River
North to South
Brooklyn Bridge Promenade to Atlantic Ave.
Nearby Neighborhoods
Dumbo, Downtown Brooklyn, and Cobble Hill
Around The Block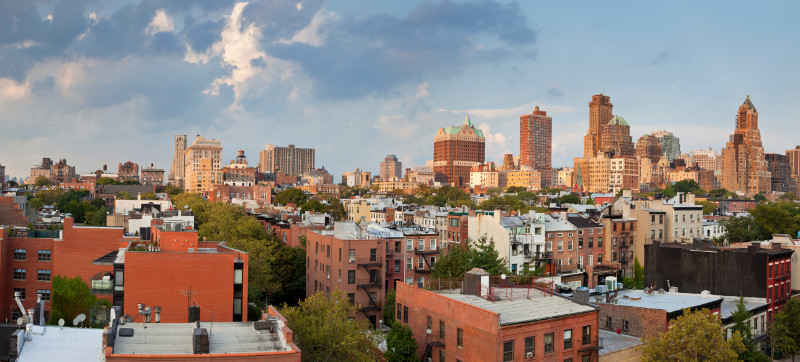 With its cobblestone streets, exquisite 19th-century brownstones, and lush urban parks, Brooklyn Heights is the embodiment of New York City's timeless elegance and modern sophistication.
Situated along the East River waterfront, this charming historic neighborhood is bordered by DUMBO (Down Under the Manhattan Bridge Overpass) to the north, Atlantic Avenue to the south, the Brooklyn-Queens Expressway (BQE) to the west, and Cadman Plaza and Downtown Brooklyn to the east, providing stunning views of the Manhattan skyline as well as convenient access to the best that New York has to offer.
Ready to start your search for Brooklyn Heights homes for sale? Here's everything you need to know:
A BRIEF HISTORY OF BROOKLYN HEIGHTS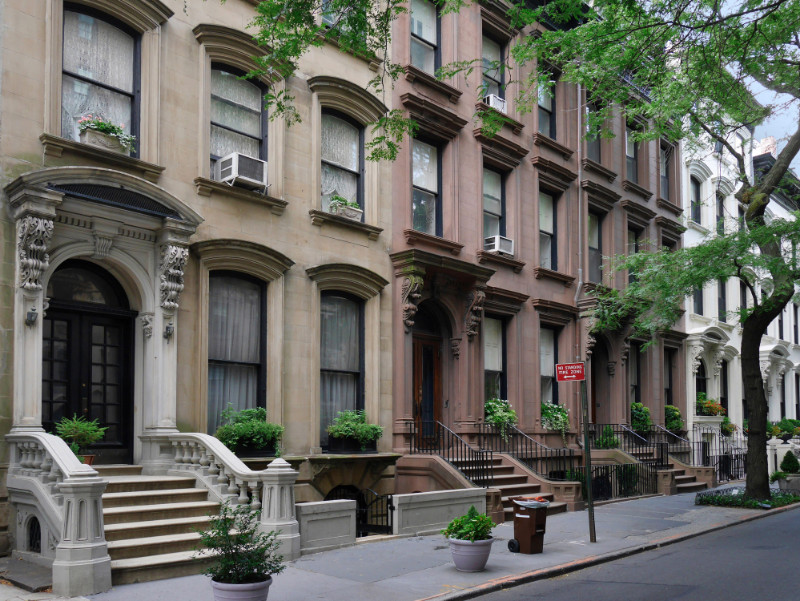 Brooklyn Heights was one of the first neighborhoods in the borough that was developed for residential use. Most of its iconic brownstones and townhouses were built in the 19th century by wealthy Manhattanites who showcased a wide range of architectural styles such as Victorian Gothic, Romanesque, Greek and Classic Revival, Italianate, Neo-Grec, and Federal.
Like many other neighborhoods in New York during the mid-20th century, Brooklyn Heights faced issues related to urban renewal and new infrastructure. The construction of the Brooklyn-Queens Expressway (BQE), for example, threatened to destroy many of the brownstone rowhouses in order to make way for new developments.
Because of this, community groups such as the Brooklyn Heights Association played a pivotal role in advocating for the preservation of the neighborhood's historic character. In 1965, Brooklyn Heights became the city's first historic district, a designation that provided legal protection and strict regulations to preserve the scale, architectural integrity, and character of the area to this day.
BROOKLYN HEIGHTS HOMES FOR SALE
Property types
The Brooklyn Heights real estate market consists of a variety of property types, ranging from historic rowhouses to modern condominiums. Its brownstones and townhomes are particularly high in demand because many still feature original architectural details such as ornate facades and moldings, high ceilings, fireplaces, and hardwood floors.
A great selection of contemporary co-op buildings and condominiums are also available, providing options for those who are looking for living spaces with more modern amenities such as doormen, elevators, and shared common areas.
Home prices
Property prices in Brooklyn Heights can vary widely, depending on factors such as size, condition, amenities, and even location within the neighborhood. Condominium prices can begin at $400,000 and top $14 million. Townhomes, meanwhile, can list from $2.5 million to $14 million.
Over the years, Brooklyn properties have shown relatively stable appreciation and demand despite fluctuations in the general market. Since 2000, property values in Brooklyn Heights have appreciated by a stunning 255.05%, which makes owning a home here a lucrative long-term investment.
Features and amenities: what to expect
Possibly one of the best things about the neighborhood's strict zoning rules and regulations is that homes tend to have more outdoor spaces than your typical New York property. Many properties here feature balconies, terraces, rooftop decks, and private or communal gardens, which allow homeowners to enjoy the outdoors even in the heart of the city.
Moreover, despite their long history, most Brooklyn Heights homes for sale have been restored and updated with modern amenities, such as chef-grade kitchens with top-quality appliances, renovated bathrooms with modern pipes and fixtures, central heating and cooling systems, as well as the latest home technology.
LIFE IN BROOKLYN HEIGHTS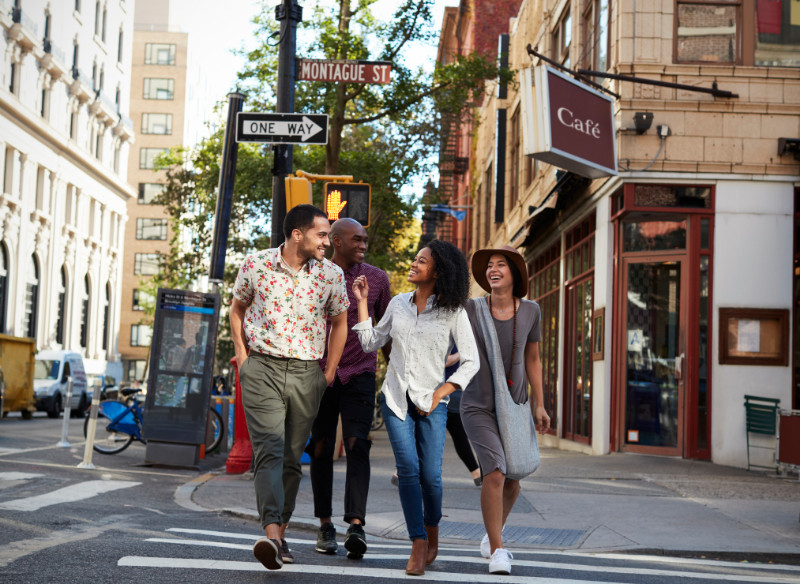 Beyond its gorgeous homes and historic value, Brooklyn Heights is known for its vibrant community and excellent quality of life. From its top-quality schools and beautiful parks to its homegrown shops and restaurants, it's easy to see why this area is one of the most desirable residential neighborhoods in New York City.
Schools
Looking for the perfect place to put down roots? Families will find Brooklyn Heights to be a great neighborhood for their children. The area is serviced by several highly regarded public and private schools, the most notable of which include PS 8 (The Emily Warren Roebling School), Saint Ann's School, The Packer Collegiate Institute, and Brooklyn Friends School. Higher educational institutions such as St. Francis College and Brooklyn Law School are also located within the borough.
Transportation and accessibility
Brooklyn Heights offers excellent transportation options, making it convenient for residents to commute to various parts of New York City. The neighborhood is well-connected by multiple subway lines, including the A, C, F, N, W, and R trains at Jay Street-MetroTech, the 2, 3, 4, 5, N, R, and W trains at Borough Hall/Court Street, and the 2 and 3 trains at Clark Street. Piers 1 and 6 at the Brooklyn Bridge Park are also part of NYC Ferry's South Brooklyn route.
Shopping and dining
For a neighborhood that only covers 0.32 square miles, Brooklyn Heights is jampacked with things to do. Foodies will find a wealth of top-notch culinary offerings such as Henry's End, a local favorite known for its classic American fare, or The Long Island Bar, with its retro-style vibe and craft cocktails that will transport you to the days of speakeasies.
Dellarocco's is another must-visit with its extensive wine list and artisanal pizzas. And for a fine dining experience with breathtaking waterfront views of the Manhattan skyline, don't miss the seafood specialties and elegant ambiance of The River Café.
The shopping scene is equally enticing. Places like Montague Street, Atlantic Avenue, and Court Street offer a unique blend of local retailers, antique stores, and fashion boutiques nestled within charming brownstones.
Parks and recreational facilities
WORK WITH BELLMARC REALTY GROUP TODAY!
Ready to start your search for Brooklyn Heights homes for sale? Look no further than Bellmarc Realty Group! Our experienced team is here to guide you every step of the way, from finding great options to securing the best price for your property.
Take that first step towards your dream home in Brooklyn Heights today! You can get in touch with us by calling 718.768.4500 or by sending us an email here.
To check out other neighborhoods and homes for sale, explore the best of New York City now
Welcome to Vinegar Hill
Vinegar Hill began at the turn of the 19th century when a community of Irish and other European immigrants settled here. Today,  much of the neighborhood's charm lies in the well-preserved three-story row houses lining Belgian-block streets where parking isn't entirely a nightmare. Vinegar Hill remains one of Brooklyn's quietest neighborhoods, reminiscent of a quaint European village.
Given its proximity to downtown Brooklyn and being a landmark district with limited tall buildings, Vinegar Hill has become an appealing residential destination for people who want to be close to the economic and recreational destinations of New York but somewhat removed from the city's constant bustle. 
Vinegar Hill Real Estate
What was once a hidden gem in Brooklyn started appearing on the radar of homebuyers and developers in the mid-2000s. Demand for real estate in the neighborhood skyrocketed, and the limited inventory fueled significant increases in the market values of homes here. From an average of about $400,000 to $500,000 in the early 2000s, the price for four-story townhomes climbed to around $1.5 million in 2006.
New developments have also risen in the neighborhood, including condo properties and townhomes.
Today, home prices in Vinegar Hill range from around $450,000 for an older one-bedroom co-op to approximately $1.5 million or more for a 2-bedroom condo in a recent development. New townhome developments can also be found in the neighborhood, and a 3-bedroom townhome unit can command prices of over $2 million. 
Property types and architectural styles
Originally, many of the buildings in Vinegar Hill served as factories and warehouses, but since the 2000s, a good number of these have been converted into residential buildings and office spaces.
Co-ops and condos

The Vinegar Hill real estate market today is composed primarily of mid-rise apartments and condominiums, including historical co-ops and new construction properties built in the last five to ten years or so. 

Low to mid-rise co-ops, mostly built in the late 1800s to the 1930s, are some of the most desirable properties in the neighborhood, thanks to their charming vintage designs and relatively lower prices. These buildings have been excellently preserved over the years to maintain the neighborhood's distinctive historic character. 

Co-ops typically come with two or four bedrooms and one to two bathrooms. Many have vintage features such as large windows with ornate fixtures, detailed woodwork, high ceilings, and crown moldings, while others have been fitted with modern architectural features. 

You can also opt for newer boutique condominiums built in 2000 onwards. These units are thoughtfully designed emphasizing modern, green living design. They typically offer one to three bedrooms and come with state-of-the-art stainless steel equipment, washer and dryers, central air, stone countertops, and built-in microwaves.

Townhomes and row houses

As in most parts of Kings County, NY, row houses are also prevalent in Vinegar Hill. These are attached, uniform homes built in rows or blocks, and are easily identified by their narrow, attached design and decorative trims and cornices. You'll find a concentration of them in Hudson Avenue, as well as in Gold and Front Streets where they're mixed in with a few remaining historic warehouses and factories, as well as new construction condos. 

New townhome developments have also been rising providing homebuyers with more contemporary options.
LIVING IN VINEGAR HILL, BROOKLYN
Brooklyn is one of the best places to live in New York because of its energy and architecture. Known for its hipster vibe, it brings its own brand of culture, nightlife, eclectic shops, and art spaces to the highly metropolitan city. 
In this vibrant environment, Vinegar Hill distinguishes itself as a peaceful "hamlet" that serves as a reminder of old New York. But with its proximity to DUMBO and Downtown Brooklyn, living in Vinegar Hill is far from dull and uneventful.
Cost of Living
According to Forbes' cost of living calculator, the cost of living in Brooklyn is a whopping 36% cheaper than in Manhattan due to more affordable housing, transportation options, healthcare, and living expenses. Within Brooklyn, Vinegar Hill offers even more affordable housing options, making it a highly desirable location for young professionals and families. 
Lifestyle and Community
Vinegar Hill exists almost like a silo frozen in time. Amid the modernization of the area, it maintains a close-knit community feel. You get to meet and know your neighbors, local business owners, and children's friends. This sense of community is one of the major reasons Brooklyn in general is popular among young families and professionals. 
A patch of green in Vinegar Hill holds meaning within the community. In 2013, the Vinegar Hill Community Garden was established as part of the city's health program. The 2,500-foot garden is used to grow vegetables and harvest rainwater. Community members, including students, tend to the garden to ensure continuity. 
Employment and Livelihood
In keeping with the diversity of Vinegar Hill's earlier communities, there is a mix of old and new residents from all industries and sectors. Most people living in Vinegar Hill work in other areas or are freelance professionals, executives, or managers. 
Things to See and Do
The famous Hudson Avenue is where you'll find Vinegar Hill House, the most popular stop in Vinegar Hill. It's an established, cozy restaurant serving delicious seasonal food in a historical setting. 
The avenue is lined with pre-Civil War Greek Revival rowhouses, and further down is the Commandant's Mansion overlooking the East River—an estate dating back to 1806. It was the home of commanders of the U.S. Navy during the 19th and 20th centuries. 
Make a reservation and pop into Rooftop Reds, a rooftop vineyard featuring rosé on tap. Check out its website to learn more about performers, pizza wine night, and other events like wine and cheese tastings. 
If you're looking for more things to do, Vinegar Hill is mere minutes away from DUMBO and Downtown Brooklyn and further down, Manhattan. Serviced by subway stations, you can get to Chinatown, Soho, Tribeca, Williamsburg, and the financial district in a few stops. 
WORK WITH BELLMARC REALTY GROUP TODAY!
If you're looking for Brooklyn homes for sale, you need the guidance of experts who know this dynamic area by heart. Here at Bellmarc Realty Group, our real estate professionals have over three decades of experience, and we're ready to help you achieve your real estate dreams! Whether you're buying or selling commercial, residential, or industrial Vinegar Hill real estate, we're here for you. 
Bellmarc Realty Group is the number 1 Century 21 Real Estate Office in Brooklyn, and we're excited to show you the best properties within New York City. Feel free to contact us by calling 718.768.4500 or by sending us an email here. 
To check out other neighborhoods and homes for sale, explore the best of New York City now.